The Ministry of Health and Child Care has reported that as of 16 May 2020, Zimbabwe had forty-four (44) coronavirus cases after two more people tested positive for the virus.
In a statement, the Ministry said:
Date of issue: 16/05/2020
HIGHLIGHTS OF THE SITUATION REPORT
✓ Two (2) cases tested positive for COVID-19 today. The two cases are both female returning citizens from the United Kingdom who arrived on the 4th of May 2020 and are residents of Harare.
✓ Two (2) positive cases reported in yesterday's update under Mashonaland West Province are actually residents of Manicaland and Harare and have been reported in today's update as such.
✓ Today 48 RDT screening tests and 504 NCR confirmatory tests were done. The cumulative number of tests done to date is 27 059 (14 784 RDTs and 12 275 PCR/GeneXpert).
✓ To date the total number of confirmed cases is 44; recovered 17, active cases 23 and 4 deaths, since the onset of the outbreak on 20 March 2020.
Harare – 20 Cases
Bulawayo – 12 Cases
Mash East – 6 Cases
Mash West – 5 Cases
Mat North – 1 Case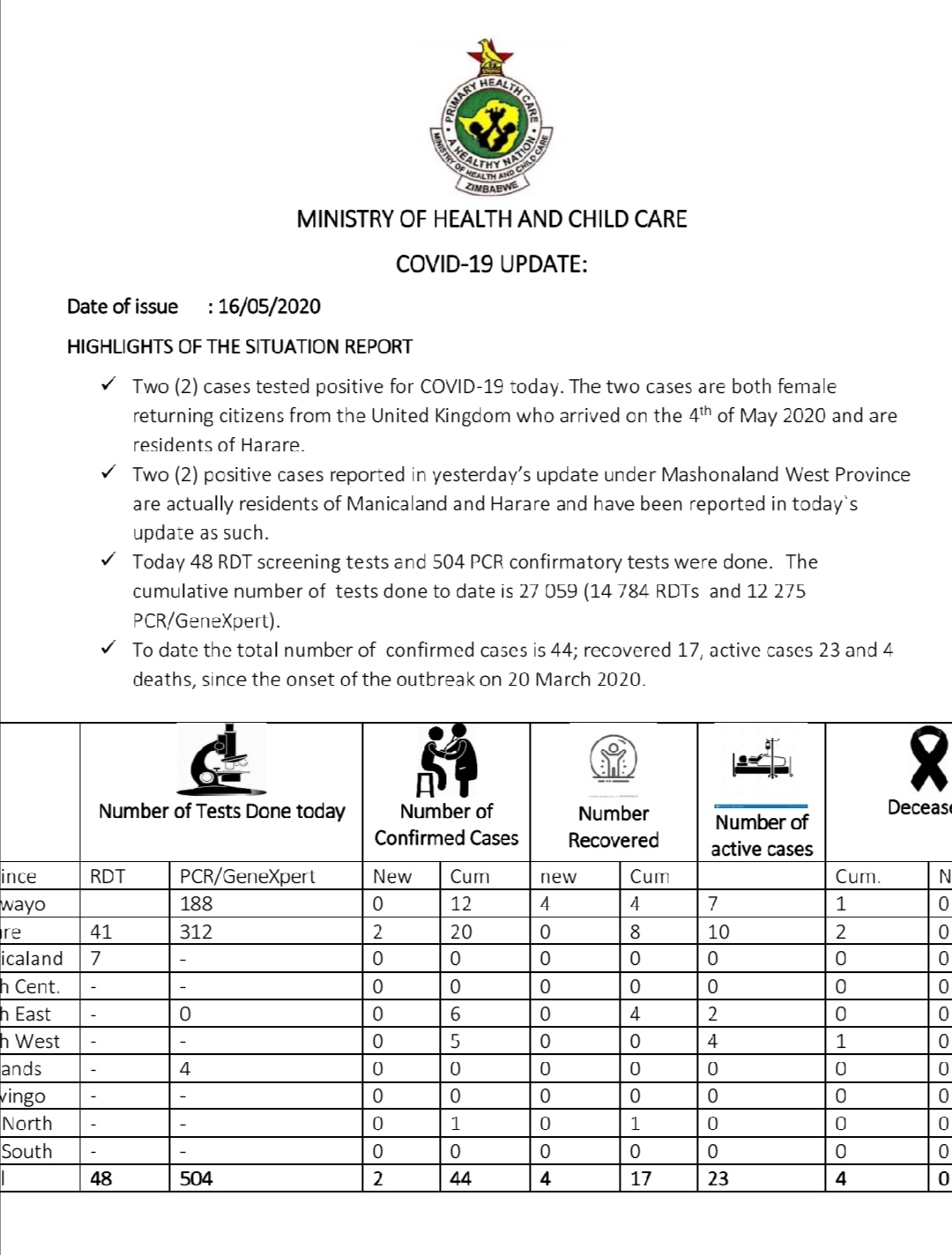 Trending On Zimetro. . .
Man transforms 4-room Soweto house into a stunning huge mansion
A man shared stunning pictures showing how he transformed a small house in Soweto into a beautiful mansion.
The incredible before-and-after shots left many social media users impressed…full details
If you suspect you have COVID-19 infection or wish to obtain more information on this disease, please call the Ministry of Health and Child Care on toll-free hotline number 2019 for assistance +263714734593 or +263774112531