Zimbabwe has announced 47 new coronavirus cases – 42 local and 5 returnees from South Africa – and 3 deaths in the last 24 hours.
In its Coronavirus Situation Report for 17 August 2020, the Ministry of Health and Child Care (MoHCC) revealed that Bulawayo, Mashonaland East and Manicaland each reported one COVID-19-related death.
The number of active cases has gone down to 1 325, with 1 756 new recoveries reported across the country and Harare alone accounting for 1 689 of the recoveries.
Cumulatively, Zimbabwe has now recorded 5 308 cases, 3 848 recoveries and 135 deaths.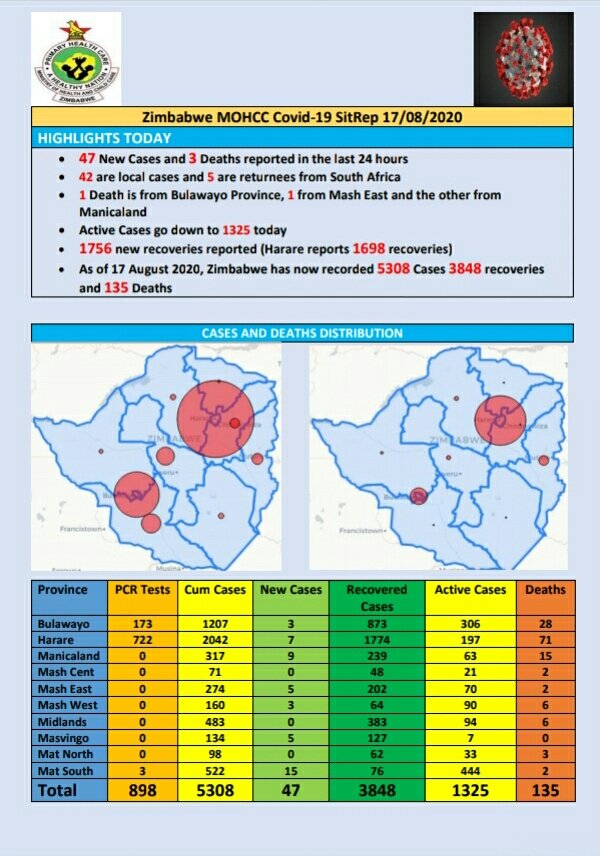 Trending On ZIMetro News. . .
Conman 'Teemak' now in therapy; bishop father to pay off his Ponzi scheme victims HARARE – A 23-year-old man who duped dozens of Zimbabweans dotted around the globe through a Ponzi scheme is currently undergoing therapy, his sister has said.
Namatai Marygrace Chipunza took to Facebook in the aftermath of news reports exposing the self-proclaimed millionaire Taona Oswald Chipunza – known among socialites as Teemak...
read more