Zimbabwe is still grappling with the Coronavirus or COVID-19 pandemic which was first recorded in the country in March 2020.
Below is the country's coronavirus or COVID-19 update or situation report by the Ministry of Health and Child Care (MoHCC) as of 13 February 2021:
New cases: 59
Locals: 59
Returnees: 0
Deaths: 5
Tests: 1 318
Recoveries: 130
National Recovery Rate: 85.7%
Active Cases: 3 617
Total Cumulative Cases: 35 104
Total Recoveries: 30 089
Total Deaths: 1 398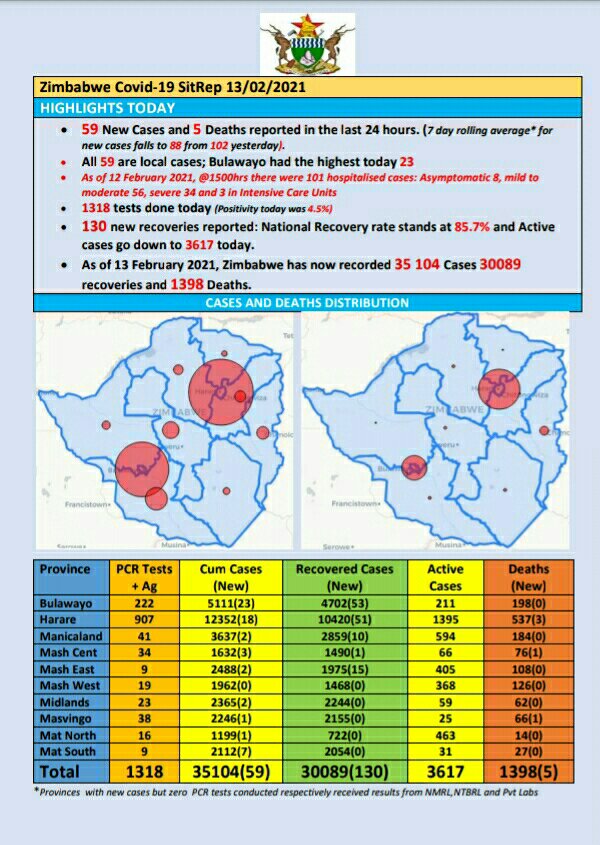 Source | Ministry of Health and Child Care
In other news, NORTON Member of Parliament Temba Mliswa has said he only dates women who are over 40 years of age.
"I am single and searching for a better wife but I will never date someone within the range of my daughter's age," said Mliswa.
Also Trending...
Woman Caught Bedding 13 year old, Claims He Invited Her!
A Greendale woman was on Tuesday arrested after she was caught having s..ex with a 13-year-old boy at the latter's parents' home in Houghton Park.
The unidentified woman was quick to defend herself from arresting police officers by showing them condoms, saying they had had protected...
Read More