ZERA Increases Fuel Prices Effective 24 June 2022
The Zimbabwe Energy Regulatory Authority (ZERA) has announced new fuel prices effective 24 June 2022.
Diesel now costs US$1.88, up from US$1.76 while the price of petrol (Blend – E15) has been increased to US$1.77, up from US$1.73 per litre.
In Zimbabwe dollar terms, diesel now costs ZWL$661.73, up from ZWL$550.59 per litre. Petrol (Blend – E15) now costs ZWL$623.16 up from ZWL$539.56 per litre.
ZERA said that were it not for the Government's intervention, the price of diesel would have been US$2.01 while that of blend would have been US$1.84. ZERA added:
The public and operators are advised that the blending ratio is now at E15. Operators may sell the petroleum products below the prescribed prices depending on their trading advantages and should display prices in a prominent place as provided for by the fuel pricing regulations.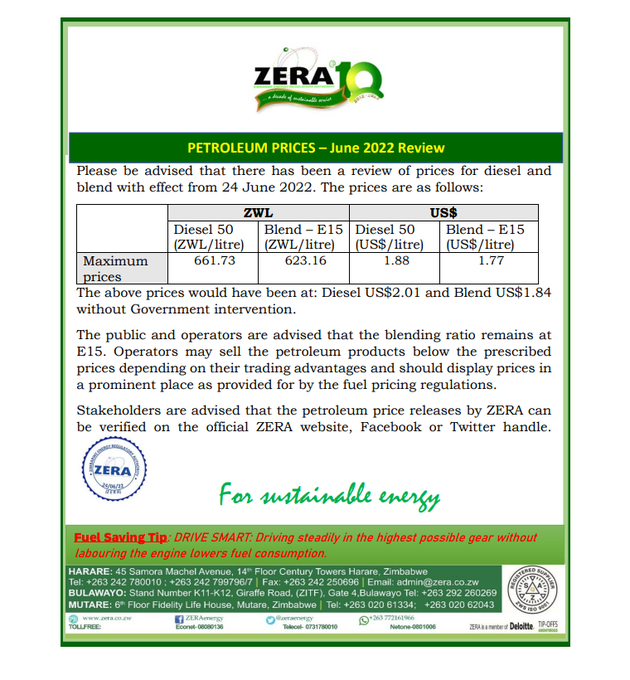 In other news,
Mai TT Visits Natalie Taruvinga Over Munyaradzi Chauraya's Abuse Saga!
SOCIALITE and comedienne, Mai TT, yesterday lashed at a businesswoman for not reporting the video of a minor holding her lover's manhood.
Mai TT caused a stir at Natalie Taruvinga's apartment in the Avenues area of Harare demanding to know why she kept the video on her mobile phone without lodging a police report against her lover, Munyaradzi Chauraya (39).
A sobbing Natalie said…Learn More