The Zimbabwe Republic Police has notified its members that all vacations and off and leaves have been cancelled except for those on maternity leave.
The notice stated that police officers will be deployed on the 31st of July. Reads the notice:
ALL FORMS OF TIME OFFS AND OCC LEAVE AND VAC LEAVE ARE CANCER ED BY THE COMMISSIONER GENERAL OF POLICE CMM SERVE FOR THOSE WHO ARE ON MATERNITY LEAVE STOP ALL MEMBERS TO BRING THEIR OWN BEDDING ON THE 30TH DAY OF JULY 2020 (THURSDAY) PREPARED TO SLEEP AT STATION ON STANDBY FOR BRIEFING AND A DEPLOYMENT TO BE CARRIED OUT ON THE 31ST DAY OF JULY 2020 AT 0300 HRS.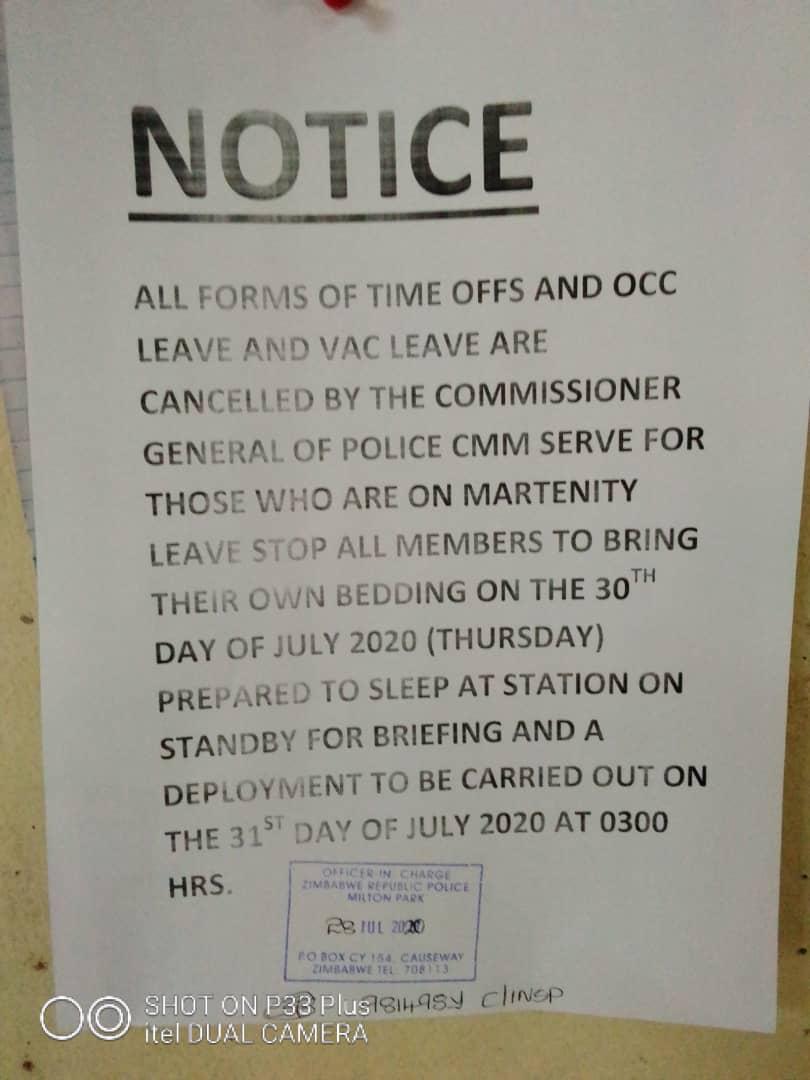 The development comes at the backdrop of opposition anti-corruption protests slated for the 31st of this month.
The state has since discouraged the citizenry from participating in the protests which it says violate lockdown restrictions.
Some of the organisers, Jacob Ngarivhume and Hopewell Chin'ono have been arrested while others have been put on the police's long list of wanted people.
Trending On ZIMetro News. . .
Conman 'Teemak' now in therapy; bishop father to pay off his Ponzi scheme victims HARARE – A 23-year-old man who duped dozens of Zimbabweans dotted around the globe through a Ponzi scheme is currently undergoing therapy, his sister has said.
Namatai Marygrace Chipunza took to Facebook in the aftermath of news reports exposing the self-proclaimed millionaire Taona Oswald Chipunza – known among socialites as Teemak...
read more