NSSA Has Reviewed Minimum Monthly Pension Payouts
The National Social Security Authority (NSSA) has reviewed minimum monthly pension payouts to $3 000 with effect from July 1, 2021, up from the equivalent of US$25.
NSSA deputy director (marketing and communication) Mr Tendai Mutseyekwa said the association aims to increase the funds to the equivalent of US$60 — about $4 900 at the official exchange rate — by year-end. He said:
_The last review was in April 2021, when we increased the minimum payout from the equivalent of US$12 to US$25. Our target was to increase to the equivalent of US$30 in July, but the $3 000 amounts to about US$35, which is US$5 above our target._
_The December target of US$60 was informed by ILO recommendations of a minimum daily income of US$2 for someone to survive in the Southern African region._
_We have a clear roadmap on pension increases, but we are not stopping there as we have come up with measures to augment the incomes of our beneficiaries._
_Next week (this week) we shall be launching a revolving fund to assist pensioners and beneficiaries who are interested in embarking on income-generating projects._
This comes amid backlash from pensioners who argue that the monthly payouts are not sufficient for their needs with some claiming that the withdrawal of their money from the banks was proving difficult.
Some stakeholders say the association should respect pensioners who contributed to the social security fund for the duration of their tenure at work.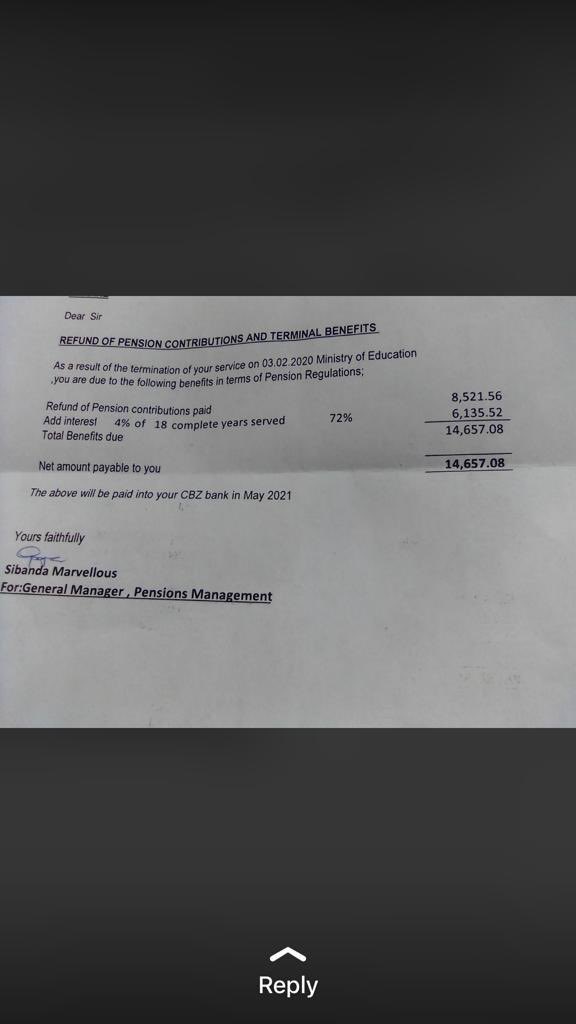 Recently, a letter to a teacher whose contract was terminated last year after working for 18 years sparked outrage as it suggested that the individual was only entitled to get just ZWL$8 500 as a pension.
Also On ZiMetro,
Apostle Creates WhatsApp Group To Dump Lovers
A Chiredzi based young prophet Kudakwashe Hlangana, popularly known as Apostle Joel in the prophetic sector or as Nasty Diego rockstar in the social media streets has been caught up in a love Dilemma dating many girls at the same time.
Apostole Joel who is also a son of a bishop belonging to the Holy Ministries church has a WhatsApp group chat circulating with the tittle ,where all his girlfriends where added as he apologized to them for breaking their hearts…Learn More