ALLEGED SUMMONING OF HIGH COURT JUDGE BENJAMIN CHIKOWERO FOR QUESTIONING
It has come to the attention of the Judicial Service Commission (JSC) that there is a news article circulating on social media to the effect that a High Court Judge, Honourable Benjamin Chikowero, was purportedly summoned by the Special Anti-Corruption Unit (SACU) and the Police for questioning in respect of the circumstances surrounding the Judge granting bail to suspected notorious armed robbers led by Musa Taj Abdul.
The JSC puts it on record that the Judge was approached by the police to give a statement as a potential witness.
The article creates a false impression that the Judge was called in as an accused person, which is not only unfortunate but grossly erroneous.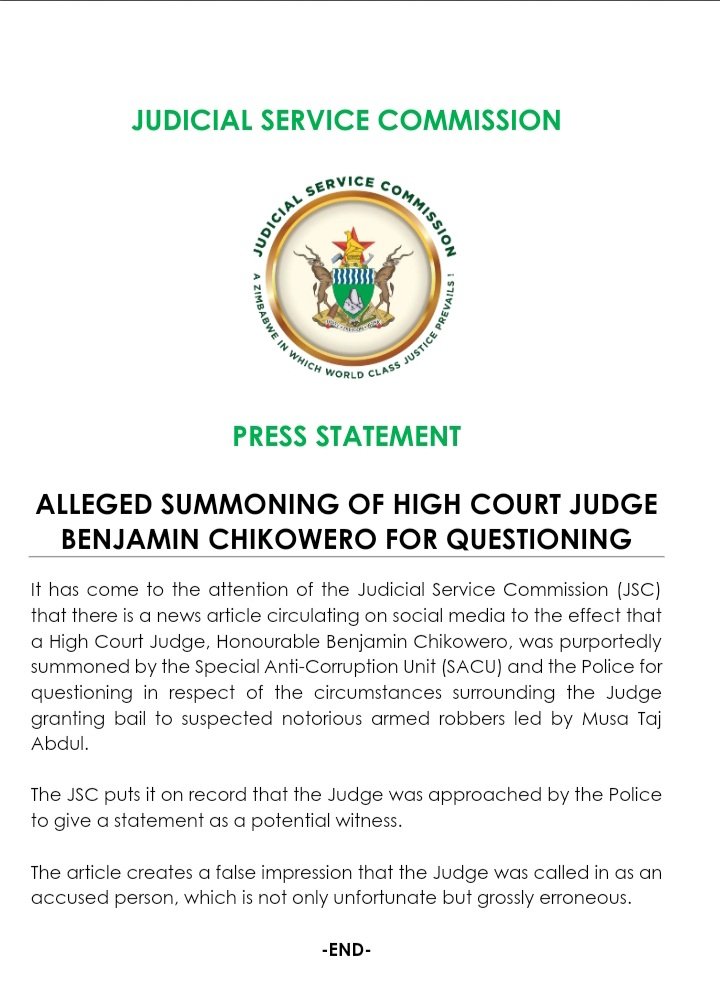 Source | Pindula News
Also Trending...
Woman Caught Bedding 13 year old, Claims He Invited Her!
A Greendale woman was on Tuesday arrested after she was caught having s..ex with a 13-year-old boy at the latter's parents' home in Houghton Park.
The unidentified woman was quick to defend herself from arresting police officers by showing them condoms, saying they had had protected...
Read More