Zimbabwe on Tuesday 28 July recorded four (4) coronavirus related deaths bringing the total number of fatalities to forty (40).
The development was announced by the Ministry of Health and Child Care in a statement that observed that the quartet was from Manicaland, Bulawayo and Mashonaland East provinces.
The deceased were three males, 2 aged 40 and one aged 59 and a female aged 50.
Meanwhile, the total number of confirmed cases has risen to 2817 after 113 new cases were recorded. Of the new cases, 112 are local while the remainder is a returnee from South Africa.
Recoveries are at 604 after 62 new recoveries were recorded.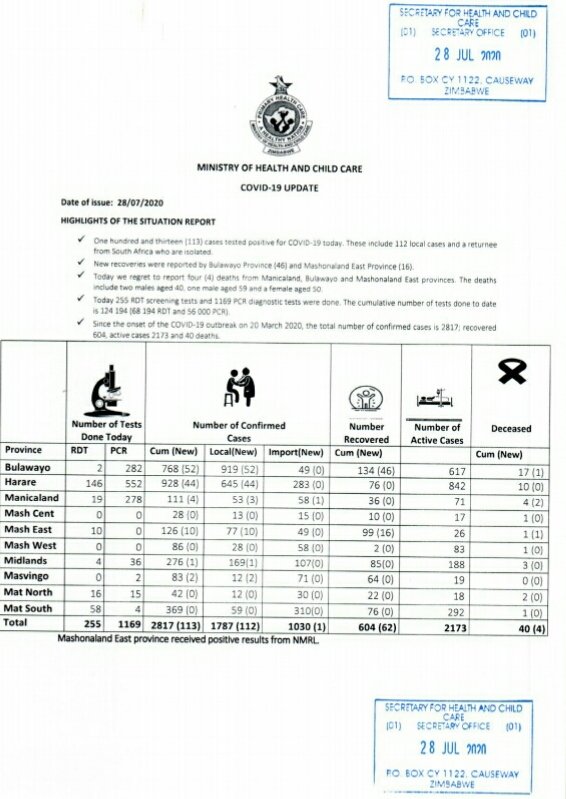 Trending On ZIMetro News. . .
Conman 'Teemak' now in therapy; bishop father to pay off his Ponzi scheme victims HARARE – A 23-year-old man who duped dozens of Zimbabweans dotted around the globe through a Ponzi scheme is currently undergoing therapy, his sister has said.
Namatai Marygrace Chipunza took to Facebook in the aftermath of news reports exposing the self-proclaimed millionaire Taona Oswald Chipunza – known among socialites as Teemak...
read more