A gang of eight armed robbers broke into Gateway High School in Harare last night and blew up the administration block strongroom using dynamite to gain access.
They stole money and disappeared. No one was injured. Police are investigating the matter.
This comes days after Gateway High School reported that they had discovered explosives planted within the school.
Below is the institution's letter to stakeholders;
It is with great distress and concern that we inform you of an armed robbery that took place at Gateway High School on Saturday 27 March 2021.
At midnight, a gang of 8 robbers entered the school premises and blew up the strong room in the administration centre using dynamite to gain access.
Though no one was injured, there was money stolen. Police and CID have been engaged and investigations are currently proceeding.
We do have night guards, and we work through a security firm, and all of this will be part of the investigations.
We would value your prayers and support as we proceed with these and many other administrative issues raised by such an incidence.
Thank you for standing with us, and praying with us, as we proceed with investigations.
We would ask that you be wise in your speculations and what is said as hearsay, and we will endeavour to keep you informed as we are able.
Yours sincerely,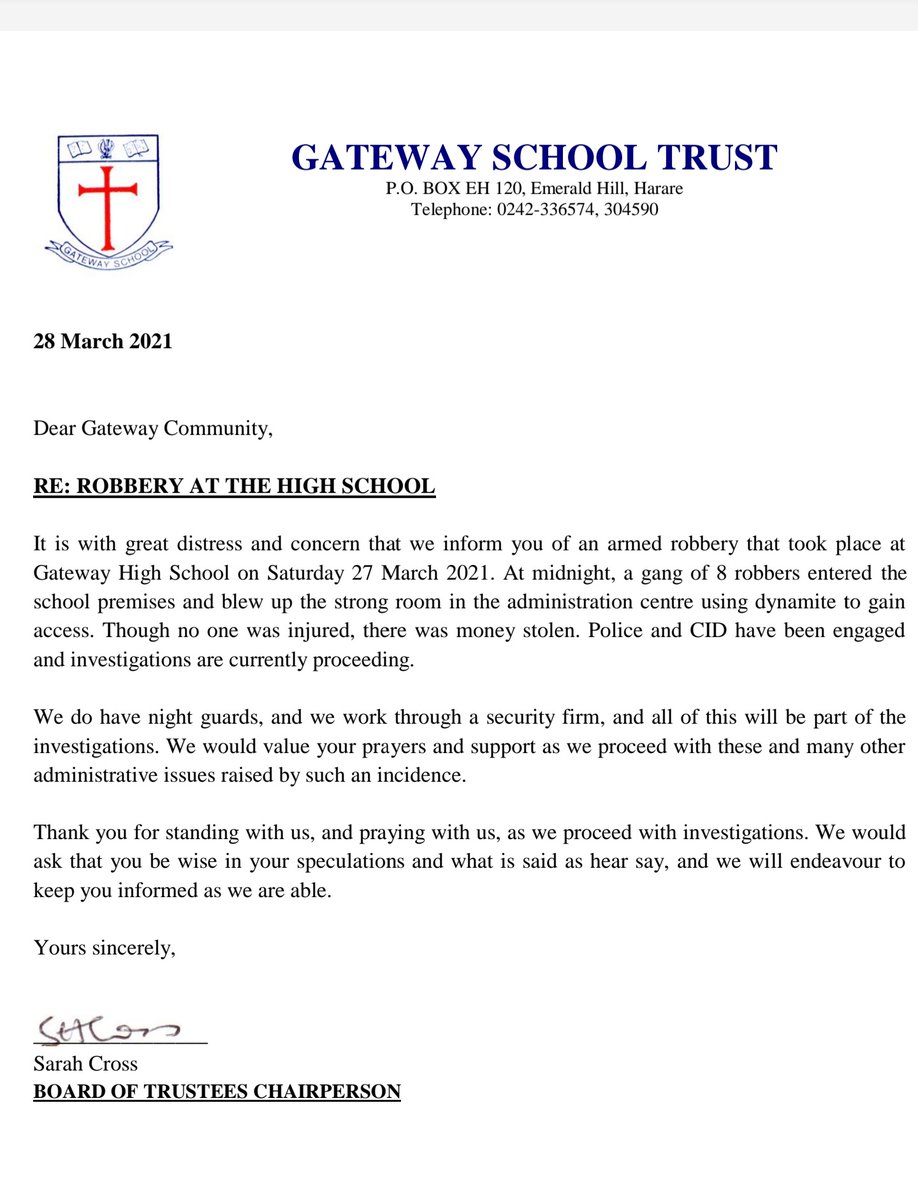 In other news, Ginimbi's former manager Shaleen Nullens affectionately known as Ms Shally has confirmed that her boyfriend, socialite and businessman 'Hell Commander' Mbizvo was involved in a terrible accident last night.
Ms Shally posted a message on Instagram saying; "It's been a walk filled with challenges, the news is true my love Hell Commander involved in a terrible accident last night when he was driving the Lamborghini Huracan.
"One very precious life was lost and the hell commander is in hospital suffering from a few injuries. A lot has been happening lately but we would appreciate your support and also allow us to mourn our close friend we lost. Please keep us in your prayers."…Learn More